Hydraulic Testers accurately measure oil flow, pressure and temperature on in-plant equipment, forklifts, machine tools and more.
75 AND 200 GPM IN-LINE HYDRAULIC TESTERS
Accurately measure oil flow, pressure and temperature on in-plant equipment, forklifts,machine tools and more.
Temperature and flow readings are in Metric and English, accurate to within ±2% of full scale.
Dual pressure gauges for high and low pressure readings; low pressure gauge is automatically shut off and protected as pressure rises beyond its maximum reading.
Automatic pressure compensating feature lets you increase flow without affecting pressure setting.
Reverse flow through tester will not cause damage; replaceable safety disc ruptures if pressure exceeds upper limit.
Solid state voltage regulator eliminates errors caused by voltage change during testing.
50Â GPM IN-LINE HYDRAULIC TESTERS
Troubleshoots systems with capacities to 200 gpm at pressures less than 5,000 psi. Accurately measure oil flow to ±5%, pressure to within 2% and temperature readings within 1%.
Pressure gauge is liquid filled to dampen system pulsation.
For more precise low pressure readings, an optional dual pressure gauge kit is available.
Order No.
Description
Weight
(lbs.)
HT50A
Hydraulic circuit tester with single liquid filled pressure gauge, 0-5,000 psi, 0-354 bar. Includes two adapter unions for 3/4″ male NPTF fittings.
37.0
Testing the Pump: Operator runs engine at a specific rpm and adjusts tester's pressure compensating valve to simulate a work load. By com paring meter readings with manufacturer specs, proper operation of pump can be confirmed. If oil flow and pressure do not meet Specs, the pump is faulty, Or, if test results and specifications agree, the operator will know that the problem is elsewhere in the system and that the other tests must be performed. Regardless of the component being tested, Hook-up and testing is accomplished in minutes.Â
Note: These hydraulic testers should always be used with the owner's manual/manufacture's specification for the system under the test.
Order No.
Max Flow
(gpm)
Scale
Flow
Ranges
(gpm)
L/min.
Max. Oper. Pressure
Temp. Scale
Range
Port Sizes
Weight
psi
BAR
°F
°C
(lbs.)
(kg.)
HT50A
50
—
0-50
0-200
5,000
345
20-240
-6 to 114
11/16-12UN Female « O » Ring with Union Adapt. 3/4 » Female NPTF
30.3
16.8
HT75
75
High Low
15-75
3-15
50-300
10-60
5,000
345
100-250
40-120
3/4 » NPT Swivel
18.2
8.6
HT200
200
High Low
25-200
5-40
100-750
20-150
5,000
345
100-250
40-120
11/2 « * SAE Split Flange
28.2
13.6
 * Not included, must be ordered separately.
Order No.
A
B
C
(in.)
(mm.)
(in.)
(mm.)
(in.)
(mm.)
HT50A
12 1/4
311.00
6 1/4
159.00
10
255.00
HT75
13 3/4
349.50
11 7/8
301.62
5 3/4
146.05
HT200
15 7/8
403.47
13 3/4
336.55
6 3/4
171.45
Testing a pump
Testing a relief valve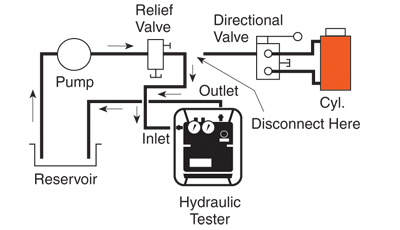 Testing a directional valve
Go to Accessories section for product detail:
Hydraulic Fittings
Hydraulic Service Accessories: